Rare Gas/Nitrogen/Hydrogen Purification - PS4-MT50
The High Flow MonoTorr purifier provides sub-ppb impurity removal in Hydrogen, Nitrogen and Rare Gases at flow rates up to 150 slpm. Each purifier comes fully enclosed and is designed for wall mounting. Standard features include an exhausted enclosure with separate bay for electronics, separate doors for gas piping system & electronics, and an exhaust collar with fan. An optional package (for Hydrogen units) includes a Hydrogen leak detector with automatic shutdown, electronic isolation, and a Nitrogen purge system with flow sensor.
Heated getter purifiers provide the most complete removal of impurities for Rare Gases, Nitrogen and Hydrogen. The metal getter forms an irreversible chemical bond with all oxide, carbide and nitride impurities. The MonoTorr is the only purifier technology capable of removing Hydrocarbons and Nitrogen from process gases.
Standard Features
Valves: Automatic inlet, outlet, and bypass valves are standard.
Life Status Indicator: Getter life status indication provided on control panel.
Controller: PLC based controller with text LCD
Ultrafine 0.003µm Particle Filter
OPTIONAL FEATURES
N2 purge system for Class I Division II Environment (H2 only)
MODBUS Communication
Hydrogen Leak Sensor (H2 only)
Emergency Off Button (EMO)
PS4-MT50 High Flow Performance

Gas
Impurities Removed
Outlet Performance
Maximum Flow (slpm)
He, Ar
H2O, O2, CO, CO2, N2, H2, CH4
< 1 ppb
100
Xe
H2O, O2, CO, CO2, N2, H2, CH4
30
N2
H2O, O2, CO, CO2, H2, CH4
< 1 ppb
100
H2
H2O, O2, CO, CO2, N2
< 1 ppb
150

Note: Purifiers are gas specific and should only be used for the gas indicated
Ordering Information
Part Number
Description
Power
PS4-MT50-H-1
H2
208 VAC
PS4-MT50-H-2
H2
240 VAC
PS4-MT50-R-1
He, Ar, Xe
208 VAC
PS4-MT50-R-2
He, Ar, Xe
240 VAC
PS4-MT50-N-1
N2
208 VAC
PS4-MT50-N-2
N2
240 VAC
Optional Equipment
MODBUS
Modbus customer interface connection
EMO
Emergency Off Button
H2SEN
Hydrogen Sensor with Alarm (H2

only)

NP
Nitrogen purge for C1, Div. II env. (H2

only)

Replacement Columns (includes new heater and blanket)
PF4-MT50-H
Replacement Column H2
PF4-MT50-R
Replacement Column He, Ar, Xe
PF4-MT50-N
Replacement Column N2
APIMS Data
The High Flow MonoTorr purifier has been qualified using an atmospheric pressure ionization mass spectrometer (APIMS). Upstream impurities fluctuating in the low-ppm range are immediately reduced to ppt levels.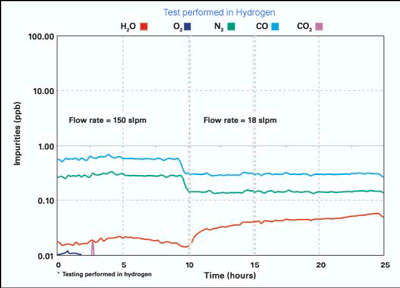 MT50 Pictures
(click to enlarge)
Each Purifier contains one heated getter column
The High Flow MonoTorr Argon, Helium, Nitrogen, Hydrogen Gas Purifier, with 0.003µm Particle Filter.
The Human Machine Interface (HMI) screen of the PS4-MT50 Gas Purifier